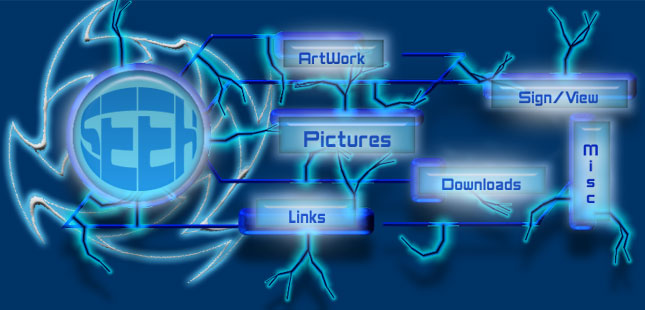 12/15/2002
4twennie are having 2 massive holiday parties, check them out! For this holiday session, I was thinking about getting everyone together and have a paintball tournement, [click here] for more info.
12/12/2002
Mars, Thee-O, Reza, and Wedoe? Coming to Fresno?
12/10/2002
I have added one new link, several new artwork, one new poem, and one new wallpaper up. As you can see in the "Next Events" section there's 3 new event posted.
12/10/2002
So many parties have gone by and your asking why haven't I post any up. I think its because of school and I was being lazy. I have put up to party info though. These parties are kool to check out and they good thing is one happens on Friday and the other Saturday. Yes, these parties I believe happen every Friday and Saturday unless told otherwise. Sorry people I know some of the pictures in the pictures section don't work. I know why they don't work and I just haven't had the will the fix them. Sorry again, I haven't either been to parties and taken any pictures. Why you must ask...I guess I haven't feel like doing it. Oh yea by the way this applies anyone of interest, This site only post actual legal events and not house parties (unless posted otherwise). The reason we don't post house parties is because if a "pig/popo/cop" whatever you want to call them find this site, they can go to all the house parties and shut them down. That and sometimes we don't fully know if the house parties are gonna happen or flake until the night, by that time were to busy kicking back with our friends then on here updating party info. This site only post local events, meaning in Fresno and maybe Clovis. So I'm not going to post any massive parties on here. If your into massives, then go to some of the sites on the "link" section. I've also been thinking about remodeling the whole site (new layout). Oh yea another thing, If your a promoter and would like to post your event up on this site free of charge (we are none profit), then send me the party info and if we have time we'll post it on here for you. Party safe and have fun.
09/25/2002
REUION (Kids-Inc) was a great party probably one of the best local event in Fresno of this year. Crowd side was decent, but what this party had that others usually don't in fresno were lasers. Had 4 ?watts (forgot the wattage) laser just like the big boys and also visual (The Never Ending Story). Great sets from all of the DJ's, big up to Furious and of course Willy Wonka. I still say we need some jungle/dnb or at least some bboy music. Next party is from the 4twennie crew with "Jubilation" on sept 28. Hope to see everyone there. *rumors has it they might have lasers at this party too*.
08/28/2002
OMG!!!! Look look! Its Kid-Inc I tell you, I swear! They are having another party coming up. Click here for more info.
08/28/2002
Sorry people I haven't had much time updating this page. I started school again (Healds), yea me a tech kid going to a tech school, this should be easy. We haven't taken any new pictures either at any parties. I have been really busy and haven't had time to post any new pictures up in here. I will have the pictures up on this site A.S.A.P. Thank you for your support of our site, we hope you visit again.
08/5/2002
Oh damn, this sucks I tell you. Our JuicyRave egroup has someone be disable for some reason. This really sucks because I've had that e-group ever since my old page "JuicyRave" and now its gone. Its either someone complain and gave yahoo false info about the e-group because yahoo had disable "JuicyRave". I can't even get the e-mails so I can tranfers them to a new group...oh well. Thanks to a friend of mine (his name will not be mention for security purposes) Has a e-group for me ready to go with some new and old party goers e-mail. The group is called U KNOW IT and you can join our new group by entering your e-mail addy in the "Join our E-group" box to the right.
05/20/2002
The Rotation pictures are up if you would like to view them. I think this is the first time I ever got pictures from a party up so soon.
05/11/2002
I finally have the IBIZ FOAM PARTY up. Sorry for the delay but you can thanx armando aka echoplexous for that. Also I have some new wallpaper up if you would like to decorate your desktop more. I know its been awhile since I did a update but I been really busy. Also if you would like to join our egroup to meet new party kids like yourself, just type in your e-mail addy to the right and click submit. Sorry if you been having trouble on the site. This is a free site so there's not much bantwitch. When I was doing the update I lost some of the "news/update" info, so thats why anything I wrote for the 4th month is gone.
03/27/2002
420's first event was a big hit. Great crowded, one of the livest crowded I've seen in fresno since the media rave crap came out. I will have the Dreamscape pix up as soon as my lazy felica gives me the files. I would also like to takes all those Seek surfers out there.
03/6/2002
Great news everyone. Thanks to all you vistors out there, my site has been suspended one time or another because of to much traffic to the site. Thanks to all who vist the site and return vistors. I haven't had a day off so there's not much new updates. I do have new pictures to post up and info...later on. This is a non-profit site so I'm not going to buy more bandwidth for traffic.
02/17/2002
Sorry for the lag people, but the Club Bubblie Shrinky Dinks pictures are now up. I been kind of busy so again...sorry for the lag.
01/30/2002
I will try to have the Club bubblie pix up this weekend or a.s.a.p. Also I am sorry if you don't see your pictures on here (the people I took). I found out that I have messed up 2 rolls of film (expose to light), but I think I save about 34 pix. I will make it up at the party on Feb 9. (Shrinky Dinks). Your welcome to come up to me and ask me to take your picture. Thank you again for visting the site and supporting our local scene (Fresno/Central valley).
01/19/2002
I have added the first set of pictures for ODDWORLD. The second set I am waiting for from Echoplexous. I have also added the "Downloads" section with downloadable wallpaper for your computer. See everyone at Shrinky Dinks.
01/08/2002
"ODDWORLD" techno oddysee is near. Hope everyone checks it out. I have very high hopes for this party and the people related to the party. May many parties come from these people in the future. [more info]
01/08/2002
One of the visitor of Seek has submited a very nice poem and I would like everyone to chick it out.
12/20/2001
The party "Return to Innocence" on the 28th has been cancel due to the Fresno police dept. A new poll sever is up because the other poll sever was down. Everyday there will be a new insperational daily quote. Hope everyone have a safe and fun holiday. Also looking for ways to make your Toyota Paseo or Tercel to go faster? Check out what I have to offer in the "misc" link (also on ebay).
12/8/2001
Be sure to leave your mark by signing the guest book. You can interact with others in our forums section and vote in our poll. Start submitting your pictures because I need to find that party kid of the month for Jan 2002. Also join our Egroup and meet cool new people with same interests. More updates to come soon.
12/7/2001
The new design site, "Seek". As you probably notice its not called "JuicyRave" anymore. I guess I kinda lost touch with the name, plus it started to sound to trendy so I choose a name that I and everyone else can relate to (well that was the plan anyways lol). It has been long since the last update so I figure I should get my lazy ass up and do something about it. I hope you people out there like this update, but this is not my final work; I just wanted to change the lay out.